Login
Enter your email address and password to sign in to your account.
Register
By creating an account with our store, you will be able to move through the checkout process faster, store multiple addresses, view and track your orders in your account, and more.
Create an account
C&B and Sustainability
Castelijn & Beerens is a family business. The goal and responsibility of the 3rd generation is to develop and improve the company and to transfer it to the next generation. They will take a generation to achieve this. The focus is therefore always on the long term.
This long-term focus has been implemented throughout the company. Castelijn & Beerens sees sustainability and social involvement as self-evident. Not for short-term successes, but for future generations.
Sustainable and socially responsible business operations have therefore been put in place throughout the company.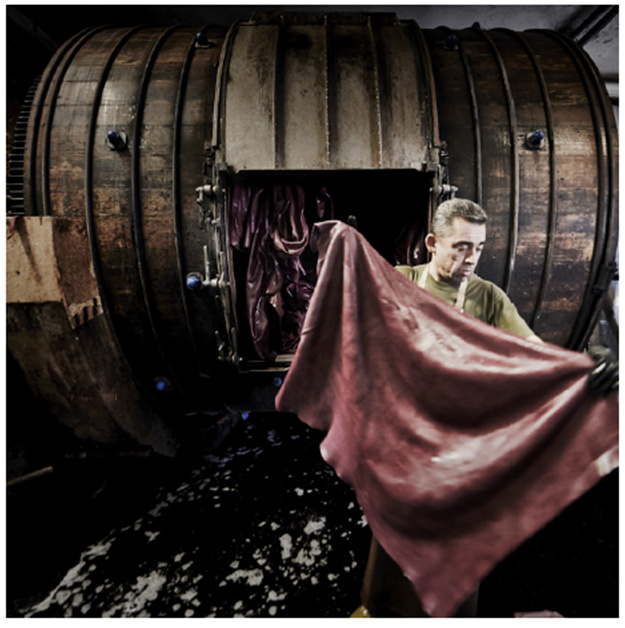 Production sites
Castelijn & Beerens produces a small part of its collection in the Netherlands. The vast majority is produced by a few permanent, carefully selected partners in China and India. The lion's share of the leather is sourced from Italy. To guarantee its high quality, each skin is checked individually by C&B prior to transport to the production partners. A long-standing relationship has been built up with all producers based on mutual respect. Castelijn & Beerens regularly visits them to maintain the relationships and ensure quality control and supervision of the production environment. In addition, the partners are affiliated with internationally recognised organisations, such as SEDEX (Supplier Ethical Data Exchange) and BSCI (Business Social Compliance Initiative), which aim to make the entire chain more sustainable in terms of working conditions, health and safety, remuneration, ethics and the environment.

Leather Working Group
The Leather Working Group is an international "multi-stakeholder" organisation consisting of brands, retailers, tanneries, leather traders, leather technical experts and suppliers for the leather industry. The Leather Working Group develops environmental protocols and monitors their implementation in the leather industry through regular monitoring. Sustainability and environmental protection are a top priority. In 2019, approximately 70% of the leather Castelijn & Beerens purchases will be sourced from tanneries that are affiliated with the Leather Working Group. The target for 2025 is 100%.

Leathers and materials
Leather is essentially a waste product from the meat industry. Cattle are not bred and slaughtered for their leather yield. This may be the case with exotic animals such as crocodiles and snakes, but Castelijn & Beerens does not process exotic animal skins.
Castelijn & Beerens uses both chrome-tanned and vegetable-tanned leather for its production. Vegetable-tanned leather is the least harmful to the environment. The characteristics of chrome-tanned leather and vegetable-tanned leather are very different. Vegetable tanning results in robust and sturdy leather, while chrome tanning results in a soft and supple leather. A mix of the two tanning methods is also possible, depending on the desired end result.
The vast majority of the leather that Castelijn & Beerens processes comes from Italian tanneries. In Italy, the leather industry is concentrated in roughly two regions:  Veneto and Tuscany. Castelijn & Beerens consciously chooses Italian tanneries because they work in accordance with strict European regulations (REACH or Registration, Evaluation, Authorisation and Restriction of Chemicals) with regards to working conditions and the environment. In the relevant regions, tanneries are joining forces in R&D and efforts to reduce the environmental impact. To this end, in 1974 and 1983 respectively, water purification companies were established in Chiampo and Santa Croce sull'Arno, where the wastewater is purified and reused in the leather industry. A lot of energy is now being put into the further development of chrome-free tanning methods.
Chiampo: https://www.acquedelchiampospa.it/
Santa Croce sull'Arno: http://www.depuratoreaquarno.it/en-US/depuratore-aquarno/about-us
Remuneration
At Castelijn & Beerens, all employees accrue a pension. Castelijn & Beerens enables its employees to benefit from the profit achieved. In addition to what has been established in the collective labour agreement (CAO), each staff member receives a year-end bonus and, in profitable years, a share of the profit, which can amount to 5% of the gross annual salary.
Our production partners handle remuneration according to international standards and are tested by Social Compliance organisations such as BSCI and SEDEX.
Packaging
Recycled paper is used as much as possible in all packaging.
Paper is separated from other waste, disposed of by a social organisation and then recycled.
Quality
Castelijn & Beerens is a producer of quality leather goods. The materials used are selected for their quality and durability (how long they will last). A bag or wallet lasts, on average, many times longer than inferior quality leather goods. In addition, Castelijn & Beerens offers the option of having its products repaired. Long-term use and reuse through repair are simple ways to reduce the environmental burden.
Energy consumption
Castelijn & Beerens uses 100% green electricity and has switched 95% of its lighting to LED. In addition, it is currently considering how to make the building more sustainable by, for example, improving the insulation quality and generating green electricity by means of solar panels.